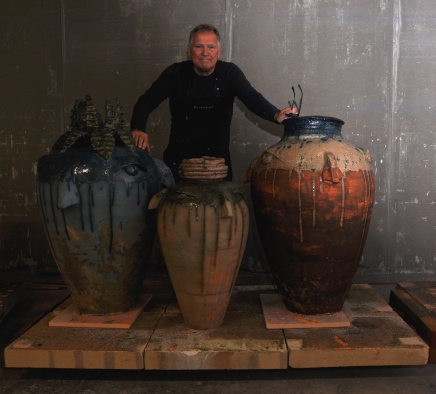 LARS THOLANDER
Createur og Provokateur. Jeg er født og opvokset i Danmarks have, Svendborg. Min kunstneriske åre gjorde, at jeg blev optaget på Akademiet for Fri og Merkantil Kunst i København under Otto Frello. Jeg har igennem årene virket som Art Director og illustrator for Lademanns Forlag, Illum, Ecco, Danfoss, Siemens og Bestsellers.
Igennem hele mit voksne liv har jeg sideløbende dyrket min frie kunstneriske side. Jeg er medlem af LandArt gruppen AZUR og kunstner gruppen Den Nordiske Gruppe. Ide mand og grundlægger af KunstVærket, de 70 kunstværksteder i Augustenborg..
I mine illustrationer og malerier arbejder jeg helt frit, jeg er som sagt opvokset i en blomsterhave, jeg prøver at fange skønhed og glæde. Jeg er inspireret fra de caribiske, mexikanske og musiske miljøer, og samtidig det masse samfund vi bevæger os i, "popcorn". Den keramiske pasion startede op i 2020.
LARS THOLANDER
Createur and Provokateur. I was born and raised in the garden of Denmark, Svendborg.My artistic vein did that I was admitted to the Academy of Fine and Commercial Art in Copenhagen under Otto Frello.
I have over the years worked as an art director and illustrator for Lademanns Publishing, Illum, Ecco, Danfoss, Siemens, and Bestsellers.
Throughout my adult life I have concurrently grown my free artistic side. I am a member of LandArt group AZUR and the artist group The Nordic Group. Today, I am on the boards of Flensburg Fjord Culture and Art Association, Art point in Augustenborg, and the committee for Easter exhibitions on Als and as chairman of the artwork, the Sønderjyske Art studios in Augustenborg.
In my illustrations and paintings, I work quite freely, I am as I said, grew up in a flower garden, I try to capture the beauty and joy. I am inspired from the Caribbean, Mexican and musical environments, while the mass society we live in, "popcorn".